When I was trying to conceive, especially during the 2 weeks waits, I was constantly questioning every twinge or possible symptom. I spend tons of time on Google trying to figure out what it might or might not mean. In the last week or so, the googling reemerged as I questioned everything as a potential sign of labor. One minute I was sure I was about to start contractions. The next minute I was convinced they were staying in there until the c section. It's been a week of trying to rest up and be as prepared as you can possibly be for this.
Tomorrow is the big day. In less than 24 hours, I will, G_d willing, be with my babies on the outside. I know it's going to be an amazing day and there's definite excitement, but there's definite fear as well.
From my end, I've never had surgery (besides wisdom teeth and my egg retrieval). I've never even had stitches or a broken bone. So, the surgery in itself is scary. Then there's the thought of potential complications or something going wrong with the babies. I know that it would be rare, but I'm still worried. I was lucky to have had regular ultrasounds, so I have the peace of mind that everything has been OK in there: fetal echo showed everything fine with the heart, all other organs looks good, they are measuring right, fluid levels have been good, etc. But there's still that piece of me that can't help but worry until I see and hear them.
It's the worry of not knowing what to expect or how things are going to go. My whole life is about to change and I have no control over all the changes that will happen. It's terrifying, yet wonderful at the same time. It's what I wanted.
Here's one last bump picture at exactly 38 weeks.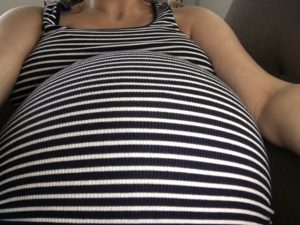 The next pictures will be of my amazing little miracles!