It's officially my last week of sabbatical and I'm spending it at my family's beautiful North Carolina home. To give you an idea of how breathtaking it is, the picture at the top of the blog is the view from the house. That photo was taking with my phone while sitting on the top porch. If you want to come to a place where you can disconnect, this is it.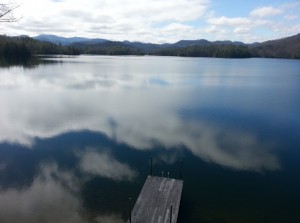 My niece and nephew are with us and that adds just a whole new feeling to our time in the house and what we can expect in the years to come with an expanding family. I know it's still some years away, but I look forward to all the cousins, my future kids included, running around all day swinging into the lake on a rope swing, kayaking, making smores, and just being kids. It's a whole different energy that I can't wait to be around.
The twins have already brought some of that as we see everything through their eyes for the first time. We weren't sure how they were going to adapt to a new environment, especially my niece who cries every time she sees my dad. Interestingly enough, she hasn't cried at all with him here in NC. They both seem to be loving it here. This place suits them. They love the outdoors and seeing the water.
For us, their non-parents, or at least for me it's been great to walk out of the room in the morning and get greeted by them. I know that I can only imagine the love that a parent feels for their child. I also always knew I would love my nieces and nephews a lot, but it really is an incredible love. I can't think of a better way to spend my last week before going back to work.